School News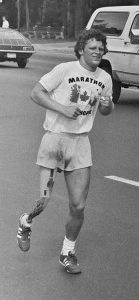 St. Rene Goupil-St. Luke School Catholic Elementary School is proud to be participating in the Terry Fox School Run. Please join our school community and continue Terry's legacy. The Terry Fox Foundation has a great reputation with 79 cents of every dollar going directly to cancer research. Thank you for joining us in the fight against cancer.
Make a Donation! ... Continue reading "Terry Fox School Run"
Board News
"I will be considerate of others".  Cycling is a fun and active physical activity to enjoy outdoors.  Wearing a helmet, obeying the rules of the road, and maintaining a safe distance from those outside of your family will help to keep you safe on your bicycle.
For more information on Cycling Education visit York.ca.
"I will be reliable so people can depend on me."  Positive mental health helps you to embrace each day with a renewed focus and the ability to deal with the challenges we face.  Remember to actively take care of your mental health and to teach your child strategies to take care of their well-being.
Ophea has put together a collection of health and ... Continue reading "Taking Care of Our Mental Health and Well-being"